Meagan
Meagan is an artist, writer, and whatever else suits her at any given moment. She lives in the Cleveland area with her husband, son and too many cats. Meagan blogs at http://hadesarrow.com/blog and cartoons at http://dragondown.com
Meagan is an artist, writer, and whatever else suits her at any given moment. She lives in the Cleveland area with her husband, son and too many cats. Meagan blogs at http://hadesarrow.com/blog and cartoons at http://dragondown.com
Today is (I think) the last day of Holidailies, which is a bit of a relief. I'm planning to take a short break here, a week while I'm in Oregon visiting my parents and another week to recover from flying all over the country. Then I'm hoping to be back here posting once a week, maybe more on occasion, but I don't want to aim for more for fear I won't do any.
I managed a post for every day of holidailies, even if it wasn't posted every day (I think I missed one day, but started a day early, so it evened out) which totals 32 days (including this one) in a row of blog posts. I realize this isn't an enormous accomplishment, but it's what I set out to do, so I'm happy to have finished it. I've also managed to get some (thought by no means all) of the holiday things done that I needed to do, so it's not as though everything dropped to the side so I could get the blogging done, something I've been known to fall into in the past. A few things dropped to the side, but I think nothing important. I got several batches of chex mix baked for gifts, two glitter bottles finished for Ender, the wave bottle finished (thought not sealed) and two drawings done for Matt. Again, none of these things are especially epic on their own, but they are all the sorts of things I often mean to do, and don't get around to, so I'm happy, and optimistic about my goals for the year.
If you missed my 2011 wrapup here are my goals for 2012:
1. Find time to do something creative at least a few times a week.
2. Submit a short story to magazines.
3. Re-write chapter 1 of novel.
4. Create dummy for picture book, and 2 finished pages. Submit picture book to publishers.
5. Create one simple (even if entirely useless) iPad app.
There are several other cascading goals, and better defined goals, that come from the ones above, but those are a good target for me at the moment, and I'm feeling pretty good about them at the moment. I'm starting out by giving myself small (very small) daily goals such as getting a sketch done, or spending an hour doing some editing. Re-focusing my efforts in this (these) direction(s) should help get me back into doing what I want to be doing, and what I need to be doing. I think daily blogging has been a good step stone for that, and helped me get some of my thoughts organized.
I hope everyone had a wonderful holiday season and enjoyed holidailies. Off we go.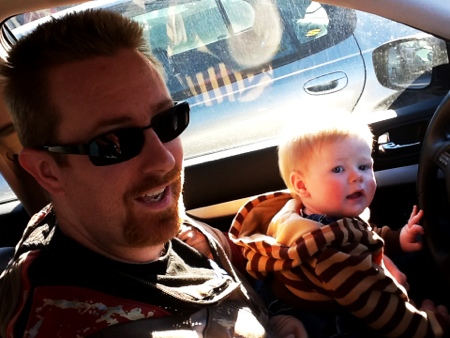 Giveaway Winner
I did a shirt credit giveaway December 19. The winner is Sherck with the suggestion: "Stare at it until you can see the Magic Eye picture (I swear it's there, and I can't believe they would put that on a onesie)." Sherck, I'll get in contact with the shirt blanks company when I get back from Oregon (in about a week) and figure out how to get you your $25 credit then. This is my first giveaway with an outside company, so forgive me if I fumble a bit.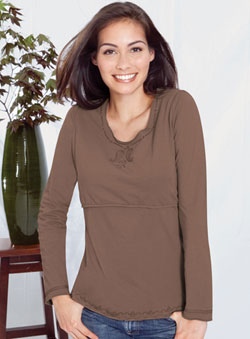 I realize plenty of nursing mothers get by just fine without ever buying a single piece of "nursing" clothing. Others, I know, find the look of nursing shirts awkward and embarrassing.
My god though, it's SO much easier. Ok, so these days, nursing is pretty easy. Ender and I both more or less have the routine down, and if I wanted to, wearing "normal" clothing would absolutely be doable. But in the early days weeks months of nursing, it was just one more thing to deal with, and I fell in love with the easy openings of nursing tops. I got in the habit. Plus, if I need to nurse Ender while I'm out and about, it's way easier with a nursing top to not flash every passerby a glimpse of my crepe paper belly, never mind my boobs.
Unfortunately, (affordable) nursing tops are pretty slim pickings. I have exactly four long sleeved tops I'm comfortable wearing. And as of this morning, one of them looked terrible on me.
I like brown, and some browns like me, but this pilgrim turkey brown was not one of them (I meant to take a photo of myself wearing it, but didn't remember until it was too late). So I thought I didn't have anything to lose by trying my first experiment with RIT dye. Well, first since a tie-dye activity in the 2nd grade.
I didn't bother trying to get the original color out, mainly because I didn't realize it was possible until recently. Plus adding one more step to a project just makes it a little less likely that I'll get it finished. I thought a bright red would combine nicely with the original brown, and even if it stayed more brown than red, it would be warmer color, and hopefully look nicer with my skin.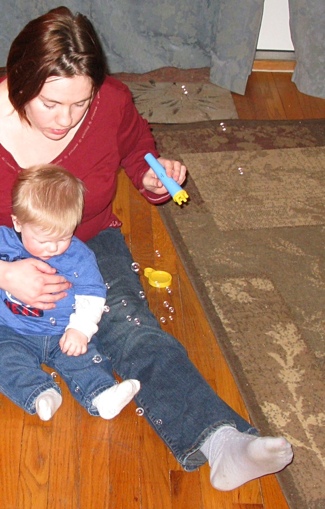 Stirring, for over an HOUR was a pain, and it looked like evil Jello. It turned out beautifully though. The color was even nicer than I'd hoped for, I can't think of the name of the red, but it's a color that makes me feel nostalgic, it's the color I imagine Little Red's riding hood should be.
To be totally honest, my craft whims don't usually turn out this well, so I'm pretty psyched to not just have one more shirt I can wear without feeling ugly, but to have completed a project in less than a day. I have plans to buy and dye two more shirts, and next time, I think I may play with masking using some wax resist. I can't wait to see how they turn out.